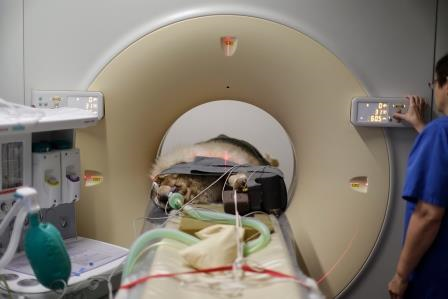 The Section of Anesthesia offers small animal, equine, ruminant and exotic anesthetics at the highest level. We are particularly interested in the pain therapy, which is also our main research area. We offer a variety of analgesic methods for all types of animals and are the point of contact in this field for colleagues from the other clinical departments. Furthermore, we are also the persons to contact for veterinary practitioners, as well as other medical institutions working with exotic or laboratory animals, should they need professional help in managing difficult anesthesia cases or have basic questions on the planning of anesthesia protocols (Good Clinical Practice).
Of course, research is also conducted in our department. In addition to independent projects, we work closely with other institutions of our faculty and the university.
Our department is a recognized and successful training center for prospective veterinary anesthetists, validated by the European College of Veterinary Anesthesia and Analgesia. Young colleagues from Switzerland and abroad are trained as specialists in a four-year training program (residency). For this reason, the students and interns at the Vetsuisse Faculty of Bern can benefit from a modern and highly specialized clinical education.